Bataan Memorial Death March - Virtual Edition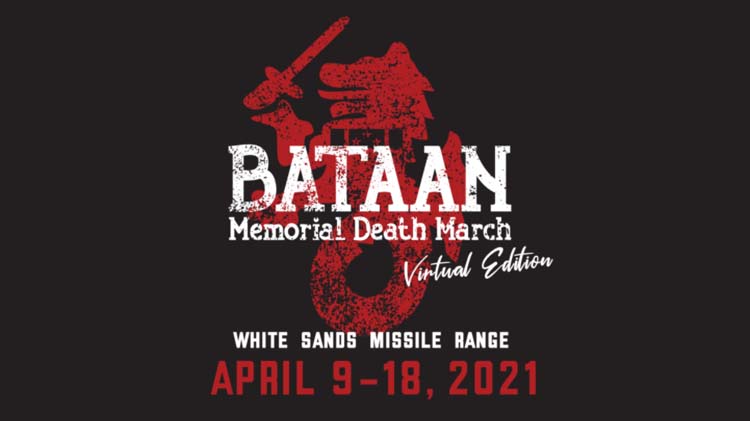 The 32nd annual Bataan Memorial Death March will be hosted virtually for the first time in event history and you can participate from Fort Benning! On April 9, 1942 tens of thousands of American and Filipino Soldiers were surrendered to Japanese forces and were forced to march more than 60 miles in the scorching heat through the Philippine jungles. Thousands died and those who survived faced the hardships of prisoner of war camps.
The Army ROTC Department at New Mexico State University began sponsoring the Bataan Memorial Death March in 1989. The memorial march was to mark a page in history that included many native sons and affected many families in the state. In 1992, White Sands Missile Range and the New Mexico National Guard joined in the sponsorship and the event was moved to the White Sands Missile Range.
Since its inception, the Bataan Memorial Death March's participation has grown from about 100 to about 9,600 marchers. These marchers come from across the United States and several foreign countries. While still primarily a military event, many civilians choose to participate in the challenging march. Participants get to choose between two courses: a 14.2-mile and a 26.2-mile course. The Bataan Memorial Death March is a challenging march through the high desert terrain of the White Sands Missile Range.
Marchers participate in the Bataan Memorial Death March for many reasons: personal challenge, the spirit of competition, or to foster esprit de corps in their unit. Some march in honor of a family member or a particular veteran who was in the Bataan Death March or who was taken as a prisoner of war by the Japanese in the Philippines.
The Bataan Memorial Death March is a challenging and grueling march that tests both mental and physical abilities. For information and the full history of the Bataan Memorial Death March, please visit: https://bataanmarch.com/
For the 2021 virtual experience, marchers are encouraged to choose a challenging stretch of road or trail in honor of the historical march. Marchers can choose between the full 26.2 mile marathon length or a 14.2 mile honorary distance.
The March officially kicks off on April 9th, 2021 (rain or shine), and participants may choose any day between April 9th and April 18th, 2021 to complete their mileage. The March must be completed in one day. Returning marchers will find they will only need to select their distance for the 2021 March, as multiple categories are not necessary in a virtual environment. Event organizers still encourage participants to march in their own way, to include in uniform or with a "ruck" if desired and safe.
The registration fee of $55 for the race plus $4.80 fee will include domestic shipping (included are APO, FPO and DPO addresses), a Bataan Marcher T-Shirt, Marcher Bib, Commemorative Dog Tag, and a Participation Medal. As with all virtual fitness events, the March is based on the honor system. Event organizers will not be tracking finishing times, instead focusing on the memorial aspect of the event. Payment is due by time of registration at https://bataanmemorialdeathmarch.itsyourrace.com/register/
The first 9500 participants registered before March 22nd, 2021 will receive a full marcher packet before the event start date. Any registrations surpassing 9500 and/or received after March 22nd, 2021 are not guaranteed a marcher packet and that packet may not arrive before the event start date. Due to shipping demands, potential delays and international orders, items may take longer to arrive.
Click here to see the route for Fort Benning 14.2 and 26.2 mile March. For the 26.2 mile March, once you complete the 14.2, you will turn around and follow the course in reverse, omitting the Follow Me Fitness Trail section.
Fort Benning will start off the Bataan Memorial Death March on April 9, at 6 a.m. (rain or shine!) with the first March for a small group of participants. Contact Lori Smith at lori.m.smith38.naf@mail.mil or 706-527-2393 if you are interested in participating – we will follow GO8, crowd sizing, social distancing. For all registration related questions, please contact the event host at https://bataanmarch.com/. The first 25 participants will be able to kick of the virtual Fort Benning Bataan edition! Participants can March the route at any time between April 9-18 at any time of the day. (As with all virtual fitness events, the March is based on the honor system. Event organizers will not be tracking finishing times, instead focusing on the memorial aspect of the event.)