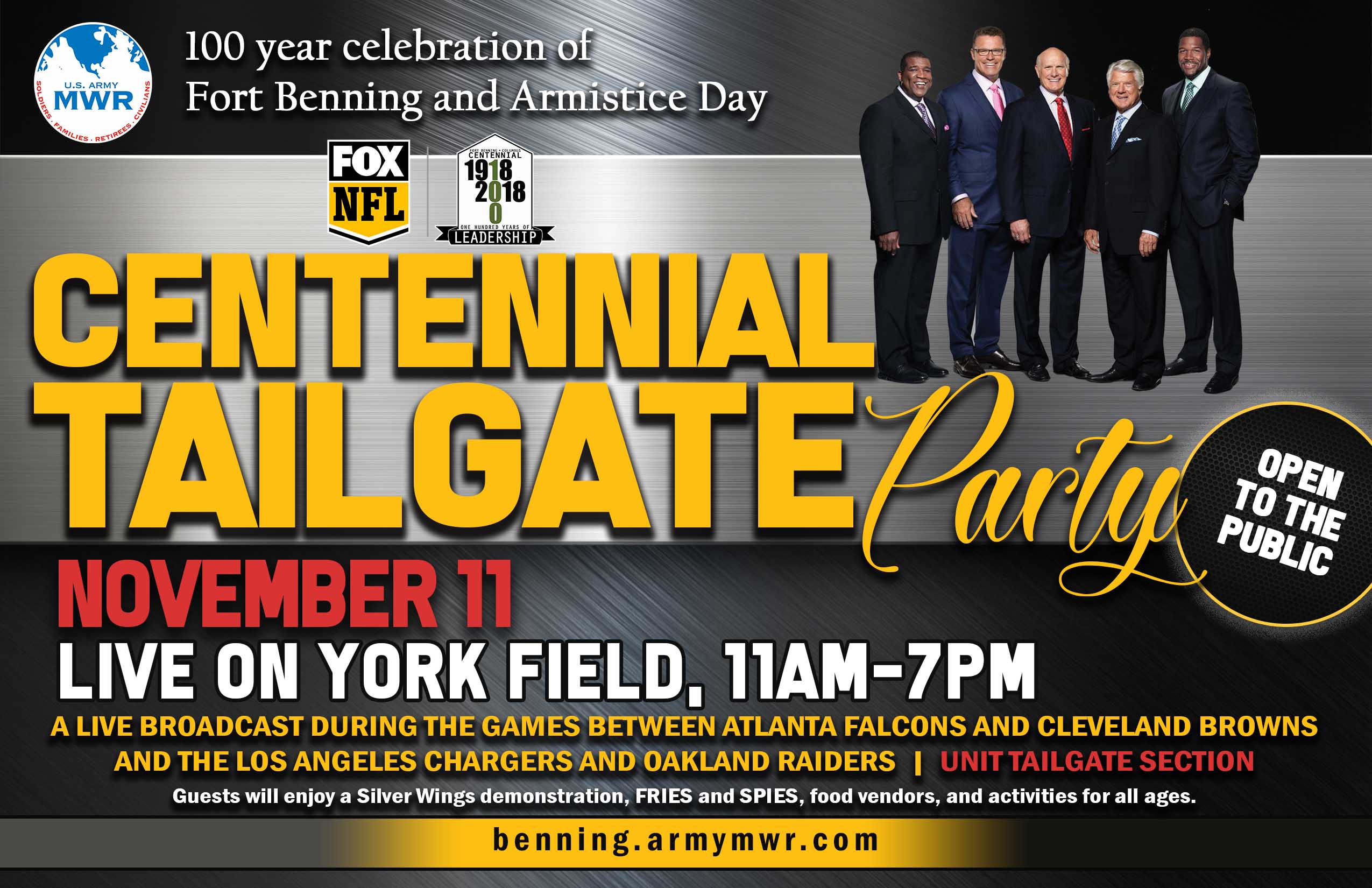 Fox NFL Centennial Tailgate Party
Note: This event has already passed.
Date: Nov 11 2018, 11 a.m. - 7:30 p.m.
Fox NFL Sunday will broadcast live from York Field on Fort Benning at 11am Nov 11 during our FOX NFL Centennial Tailgate Party during games between the Atlanta Falcons and the Cleveland Browns and the Los Angeles Chargers and Oakland Raiders.
This celebration is a fun, family event with kids' activities, inflatables, military displays and demonstrations, and vendors selling food and beverages.
This free event is open to the public. Those who do not have an identification card that grants access to Fort Benning should use the Benning Road gate special events access lane from 9am-5pm.
Note: No canopies, guns, knives, weapons of any kind, or outside alcoholic beverages are allowed. No professional cameras or glass bottles. Be prepared for random security checks. No pets allowed. Smoking allowed in designated areas only.
Frequently Asked Questions
Where can I park?
Parking will be available in designated areas around McGinnis-Wickam Hall, at Smith Fitness Center, Bldg. 6, and near the ranges along Dixie Rd.
Can we bring coolers/refreshments?
Coolers are allowed, but there will be plenty of food and beverage vendors available. No outside alcoholic beverages are permitted. No glass or grills allowed.
Can we bring pets?
No. For safety and sanitation reason, please leave your pets at home. Service dogs are permitted.
What are tokens for?
Tokens are needed to pay for all food and beverages. Admission is free, as well as the entertainment, children's activities,and parking. MWR uses tokens at our large events to help speed up the process of ordering and paying for food and beverages. The vendors appreciate the ease of not having to make change. BUT don't wait in line. Pre-sale of tokens will begin October 29 at DFMWR Headquarters, Building 228 on Kilgore Street. A token trailer will be set-up at the event for the customer's convenience. $1 per token. Unused tokens can be exchanged for a full refund at the event, or Monday through Friday at MWR Headquarters, Building 228.
Do I need cash to pay for tokens?
No, we can accept debit and credit cards. There is an ATM located in McGinnis-Wickam Hall and at Kinetic Credit Union.
What if it rains?
Stay up to date at facebook.com/BenningFMWRfans.
Can we bring canopies?
No canopies, grills or tents are permitted.
Is this handicap accessible?
Yes, York Field is handicap friendly.