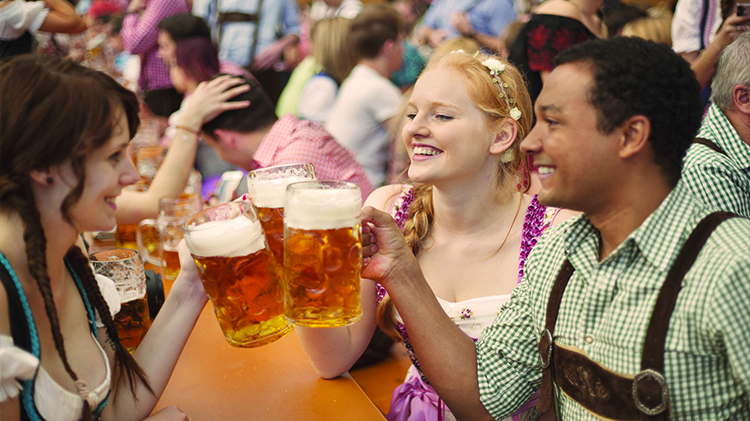 Note: This event has already passed.
Date: Oct 20 2017, 4 p.m. - 10 p.m.
Oktoberfest, Fort Benning's favorite fall tradition, returns to Uchee Creek Friday through Sunday, October 20-22. Put on your dancing shoes and enjoy traditional German music (including Sonnenschein Express, Yodelers, the MCoE Band, and the Hofbräuhaus Band,) authentic German food and brews, games for all ages, pumpkin patch, hayrides, carnival rides (Ferris wheel, tea cups, merry-go-round), a cross country 10K, 5K and a Volksmarch.
This event is fun for the whole family, pet friendly and open to the public! Admission is $5 per person per day for guests 18 and older. Younger guests will not be charged admission but must be accompanied by an adult. Admission fees can be paid in cash or credit. Civilians are reminded they do not have to acquire a post access pass for this event if they use the Highway 165 entrance to Uchee Creek.
The funs starts at 4pm Friday, Oct 20, and ends at 10pm. The days includes fun for the kids, with inflatables and a petting zoo, and Fun with a capital F for adults, with a ceremonial keg tapping at 6pm, performances by the Sonnenschein Express and yodelers, stein hoisting contests and more. Friday night only, we offer child care for $20 per child from 5-10pm. Reservations must be made before Oct 12 at Parent Central. Call 706-545-2079.
Saturday starts at 9am with the annual Oktoberfest 10K Cross Country Challenge. The dirt route winds deep into the wooded hills around Uchee Creek. This event is open to the public. Register by Oct 19 for $25 at Smith Fitness Center or online at https://endurancecui.active.com/new/events/47848854/priceCategories/47849054/primaryForm?_p=6895596349432542. The first 100 to register will receive free t-shirts. Registration on site on race day will be $35, starting at 7am. The race starts at 9am. (This event also includes a volksmarch, which starts right after the 10K starts. No registration required.)
Saturday events also include canine competitions (the Dachshund Derby, Best Dressed, Doggie Doppelgangers and Top Dog trick); hay rides, pony rides, petting zoo, inflatables, crafts, boat rides and pumpkin patch for the kids; a keg tossing competition, dancing and live music. We tap out at 10pm.
Sunday activities, from 10am to 6pm, include more great music by the Hofbräuhaus Band, more children's activities and more great food. This year, we're excited to host a postwide non-denominational chapel service in the Fest Tent from 11am-noon. Chapel service guests will not pay an Oktoberfest entry fee.
Danke to our fabulous sponsors, USAA, AFBN, CB&T, Omni, Kia Auto Sport, Wells Fargo, Hofbräuhaus and metroPCS.
Shuttle service will be available to and from Oktoberfest on post. Pets are not permitted on the shuttle. We will provide routes and times as the date draws near.
Vendors accept only tokens for the purchase of food. Wristbands (for admission) and tokens, $1 each, are available before the event at Building 228 on Kilgore Street, Outdoor Recreation on Gillespie, and at Uchee Creek, starting Oct 5, or you can purchase them at the event. Unused tokens can be redeemed for full value.
Frequently asked questions:
How can I get there?
Use our free MyBaseGuide smart phone app for directions. You do not have to enter Fort Benning or acquire a post access pass for this event. Uchee Creek is easily accessed from 165 in Alabama. We will offer a free shuttle service from 11am-10:30pm Saturday to and from select on post locations. No pets allowed on the shuttle. Must show an ID to ride shuttle. Stay tuned to benning.armymwr.com for route information.
Can we bring coolers/refreshments?
No outside food and beverages are permitted at this event.
What kind of food do you serve?
You name it: Schnitzel, Bratwurst, Landjaeger, Meterwurst, Kraut, pretzels and potato salad, chicken, fries, corn dogs, hamburgers, BBQ, turkey legs and much more! Desserts include cookies, cakes, crepes, funnel cakes, kettle corn, candy apples, Italian ice and more. Wash it all down with your favorite brew or a soda.
Is the event handicap friendly?
This event is physically accessible to individuals with disabilities. Make requests for sign language interpretation or other accommodations to 706-545-4499.
Why do I need tokens? Do I need money?
For their safety and convenience, our food and beverage vendors only accept tokens. Purchase tokens weekdays at Building 228 on Kilgore Street, Outdoor Recreation, or at Uchee Creek, beginning Oct 5. You can also purchase them on site, using cash, credit or debit. Redeem unused tokens after the event for full value.
When you say kids' activities are free, do you mean they're free?
Actually, yes. They'll enjoy those inflatable bounce houses, a quad jump, petting zoo, carnival rides, hay rides and the pumpkin patch, arts and crafts and games, and it won't cost you a dime.
And for the big kids?
Adults will enjoy competitions like the annual Dachshund Derby, keg tossing and the Hofbräu Masskrugstemmen (stein hoisting contest). You'll also enjoy free boat rides, carnival rides, entertainment in the fest tent and Biergarten, and lots of dancing. At some point, you might do the chicken dance. What if it rains? It's on. Grab a beer and head into the Fest Tent.
Schedule of events: Friday, Oct 20 4-10pm : Food and beverages for sale 4-8pm : Limited children's activities (inflatables, petting zoo, pony rides, quad jump, Ferris wheel, tea cups, merry-go round) 4-9pm : Games and contests in the Biergarten for ages 21 and older 4:30-8pm: Register for the Stein Hoisting competition 4-8pm : Quad jump 4-10pm: Carnival rides In the Fest Tent 4-4:30pm: Yodelers 4:30-5:30pm: Sonnenschein Express 5:30-6pm: Yodelers 6pm: Keg tapping ceremony 6:30-7:50pm Stein Hoisting preliminary for men and women 7:50-8:20pm: Yodelers 8:20-8:40pm: Stein Hoisting preliminary for men and women 8:40-9:20pm: Sonnenschein Express 9:20-10pm: Yodelers Gute Nacht! Saturday, Oct 21 7-8:45am: Registration for 5K and 10K 9am:Kia 10K Cross Country Challenge 9:30am: 5K starts 10am-noon: Volksmarch, no registration required 10am-8pm: Children's activities, including hay rides, quad jump, Krazy Hair, face painting, pumpkin patch, pony rides, petting zoo, inflatables, library activities 10am-10pm: Carnival rides, food and beverages available 11am-5pm: Dog contest registration, HB Munich Stein hoisting competition registration Noon: Dog Contests: Best Dressed, Doggie Doppelgaenger, Top Dog Trick 1pm: Dachshund Derby Noon-5pm: Pontoon Boat Rides 2pm: Keg Tossing Contest 4-11pm: Shuttle Service on post In the Fest Tent 10am-noon: Recorded music Noon-1pm: Yodelers 1-2pm Sonnenschein Express 2-2:45pm: Yodelers 2:45-3:05pm: Stein Hoisting preliminaries for men and women 3:05-4pm: MCoE Band 4-4:20pm: Stein Hoisting preliminaries for men and women 4:20-5:20pm: Yodelers 5:20-5:40pm: Stein Hoisting preliminaries for men and women 5:40-6:40pm: MCoE Band 6:40-7:40pm: Sonnenschein Express 7:40-8pm: Stein Hoisting Final 8-9pm: Yodelers 9-10pm: Sonnenschein Express Gute Nacht! Sunday, Oct 22 10am-6pm: Food and beverages available, carnival rides, Quad Jump, cildren's activities, hay rides, pumpkin patch, inflatables, petting zoo, pony rides, quad jump, library activities Noon-5pm: Pontoon boat rides 12:20-4pm: Drum circle, 20 minutes on, 20 minutes off Fest Tent 10-11am: Recorded music 11am-noon: Non-denominational Crossroads Chapel Service Noon-12:30pm: Recorded music 12:30-1:30pm: Sonnenschein Express 1:30-2:30pm: Yodelers 2:30-3:30pm: Sonnenschein Express 3:30-4:30pm: Yodelers 4:30-5:30pm: Sonnenschein Express 5:30-6:30pm: Recorded music