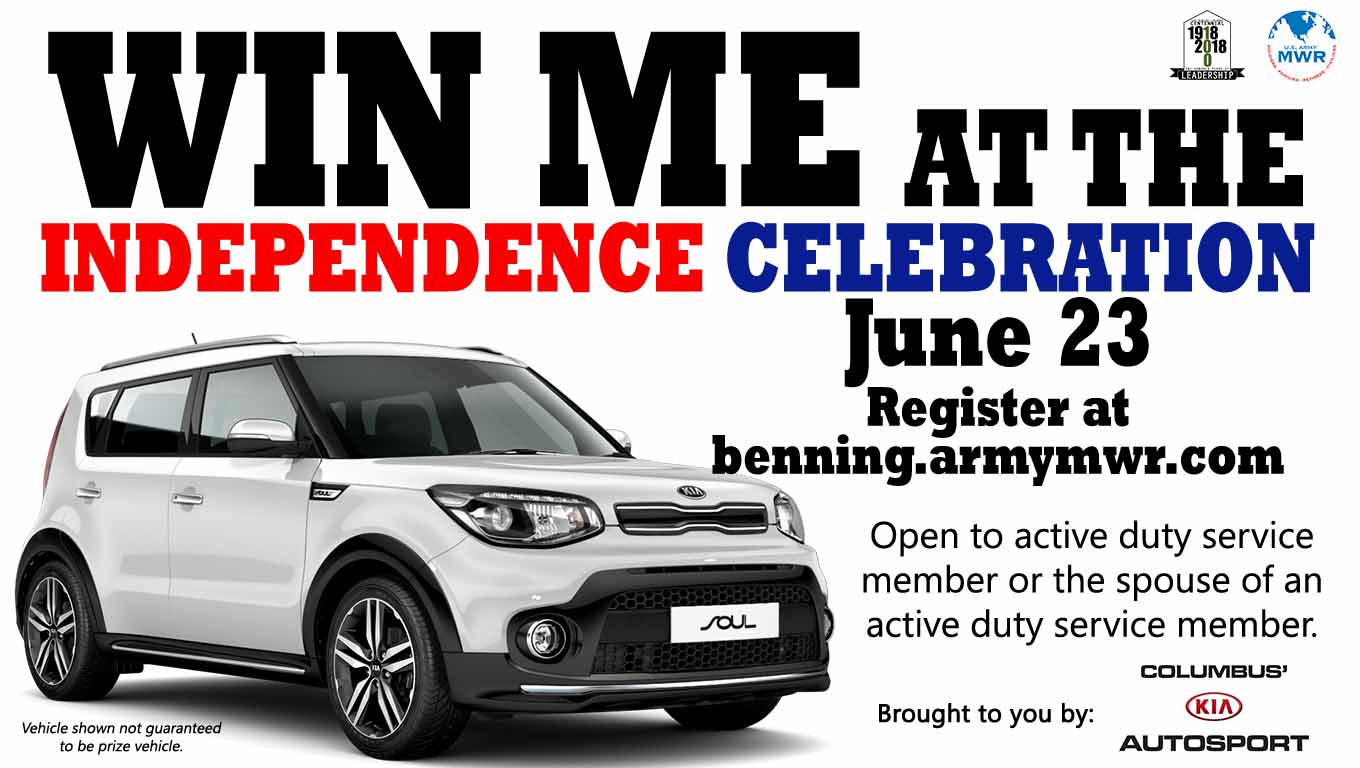 Win a car at the Independence Celebration!
4-11:30pm June 23
Address: York Field, 1 Karker Street, Fort Benning
Free and Open to the Public!
This year's Independence Celebration will be 4-11pm June 23 on York and Gardner fields on Eckel Avenue, in front of McGinnis Wickam Hall. Admission is free, and this event is open to the public. Three Big Concerts and a Fireworks Extravaganza! Though the highlight of the annual Independence Celebration is always the finale, the largest, grandest fireworks show in the 100-year history of Fort Benning, you'll also enjoy great concerts, featuring Flo Rida, Big & Rich (with Cowboy Troy,) 3 Doors Down, and the MCoE Band.
As always, the Silver Wings will conduct aerial demonstrations and Rangers will perform high-speed insertion and extraction operations via a rope and a helicopter, a thrilling show we call Fries & Spies. We will also offer guests the opportunity to jump from a 34' Airborne Training Tower on Eubanks Field. This should be on your Fort Benning Bucket List.
Aside from the traditional games and a great variety of food, guests will enjoy crafts, a petting zoo – featuring the world's largest horse! – and more of those crazy inflatable bounce houses than you can shake a stick at. All free! Let the kids jump till they puke, then send them back for more.
More than 50 food and beverage vendors!
Check out the list of menu options here (subject to change.)
Get your tokens today!
Food and beverages are available for purchase all throughout the event. Our food vendors only accept tokens, which are $1 each. You will be refunded for unused tokens, so load up early and save yourself a return trip to the token trailer. You can also purchase ahead of time, weekdays between 8am-4:30pm in Building 228 on Kilgore Street, and return unused tokens there afterward for a refund.
We Appreciate our Sponsors!
Thank you to the folks who make it happen, including Kia AutoSport of Columbus,Ranger Joe's, IHG Abrams Hall, AFBN, USAA, Wells Fargo, Synovus, Benchmark Mortgage, Texas Roadhouse, Opelika FCJDR, Grainger, and Academy Sports and Outdoors. If you are interested in sponsoring this event, call 706-545-4559.
Schedule of events (all times are an approximation)
4-11pm: Food and beverages available
4-10:30pm: Children's activities
4-7pm: 34 foot jump towers behind McGinnis Wickam Hall on Eubanks Field
6:20pm: Silver Wings
6:35pm: FRIES & SPIES
7pm: Big &Rich
7-8pm: Winner of car will be announced on stage
8:15pm: 3 Doors Down
9:20pm: Flo Rida
10:40pm: Fireworks with music provided by MCoE Band