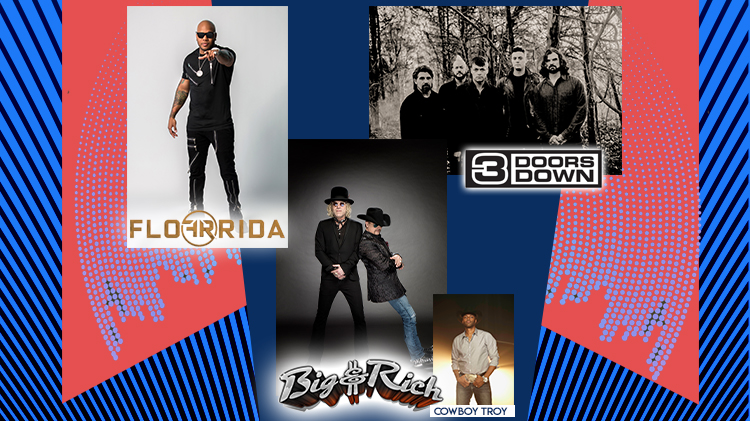 Flo Rida, 3 Doors Down and Big & Rich will perform June 23 on York Field during Fort Benning's annual Independence Celebration, hosted by the Directorate of Family and Morale, Welfare and Recreation. Three big acts and three music genres makes this a historic first in the 100 year history of Fort Benning.
We never celebrate July 4th on the 4th of July, and we make no apologies for it. We host the annual Independence Celebration early for a variety of reasons but mostly because we know it's important for our Soldiers to travel over the holiday to be with family and friends. You should never have to choose between our celebration and celebrating with the ones you love. You value your family; we value your priorities.
This year's Independence Celebration will be 4-11pm June 23 on York and Gardner fields on Eckel Avenue, in front of McGinnis Wickam Hall. Admission is free, and this event is open to the public.
Though the highlight of the annual Independence Celebration is always the finale, the largest, grandest fireworks show in the Chattahoochee Valley, you'll also enjoy great concerts, featuring Flo Rida, Big & Rich (with Cowboy Troy,) 3 Doors Down, and the MCoE Band.
As always, the Silver Wings will conduct aerial demonstrations and Rangers will perform high-speed insertion and extraction operations via a rope and a helicopter, a thrilling show we call Fries & Spies. We will also offer guests the opportunity to jump from a 34' Airborne Training Tower on Eubanks Field. This should be on your Fort Benning Bucket List.
Aside from the traditional games and a great variety of food, guests will enjoy crafts, a petting zoo – featuring the world's largest horse! – and more of those crazy inflatable bounce houses than you can shake a stick at. All free! Let the kids jump till they puke, then send them back for more.
Food and beverages will be available for purchase all throughout the event. Our food vendors only accept tokens, which are $1 each. You will be refunded for unused tokens, so load up early and save yourself a return trip to the token trailer. You can also purchase ahead of time, weekdays between 8am-4:30pm in Building 228 on Kilgore Street, and return unused tokens there afterward for a refund.